exceptional garment care services for over 75 years
we are passionate about garment care
Superior knowledge and effort means pampering not processing. At Young Cleaners, we take pride in our work and strive to provide the highest quality services. 
Mr. Young has long been recognized as an industry leader when it comes to garment care. He is affectionately known in Concord as the "Spot Doc" and was named one of the "Best Buys" as a trainer and consultant. His list of accolades is extensive and he currently writes a tech tips column for an industry magazine.
Young Cleaners has been a proud recipient of the prestigious Award of Excellence in Quality Cleaning and Customer Service for 10 consecutive years. This honor reflects a dedication to customers and to providing the best possible customer service.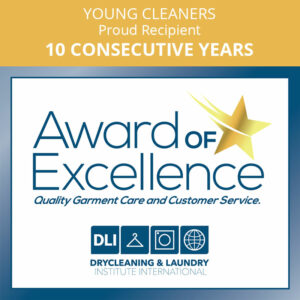 trust us with your garments
At Young Cleaners, you can rely on us to safely clean your most precious garments. We also specialize in restoring fragile items. Ask about our alteration services.
Just ask one of our customers. We're proud of what they have to say about us. They have voted us Best Dry Cleaners 16 times!